Part 1:
1-5 years old
(1988-1993)
---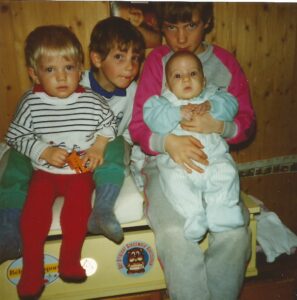 I was born on 19th November 1988, in a small town called Adelboden in the Swiss Alps. This was a happy day for my parents and my three older brothers as I joined them as the latest family member. I was born, like everyone else in my family, healthy, with a sense of smile that I got from my parents and of course I was happy that I now had more space, rather than hanging around in my mother's womb. ☺ The first couple months of my life seemed to be good and nothing unusual happened. I lived my first months as a healthy, strong boy with an anointed and glorious future!
Close to my 1st birthday, I experienced several flus with violent coughs and sniffles. After a few weeks, my parents took me to the doctor, because the flu never really went away. Lots of tests were done but the doctors couldn`t really identify what was wrong.
A few more weeks passed, then I was taken to a university hospital that was able to identify the real issue. In December 1989, I was diagnosed with a complicated chronic illness that is called atipycal Haemolytic Uremic Syndrome (aHUS). In simple terms, it`s a blood-urinary illness that in most cases causes a kidney disease. (Click here for more informations about HUS
When your kidneys are working at under 30% of their capacity, treatment is necessary in order to stay alive because the kidney is not able to cleanse the blood completely. In all the food and drinks we consume, there are substances which the body needs and some which it doesn`t need. Your kidneys act as a waste disposal system, filtering out the substances you do not need and cleansing your blood.  The produce of this process is  urine, which "healthy" people then release.
After months of tests, I was so sick that one of the nurses told my parents: "He will never go to school." This was a very hard time for my parents.  A possible treatment was found, and my parents were faced with the extremely difficult decision of whether to go ahead with it or not. The treatment, Peritoneal Dialysis, had to be done for me every night at home. If I didn't receive it, I wouldn't live. In January 1990, my parents decided to go ahead with the treatment and take on the challenge of caring for me and keeping me alive by administering Peritoneal Dialysis every night.
Peritoneal Dialysis sets apart the negative substances from the food in the stomach every night, with a salt-sugar solution. As well as this, I had a tube through my nose that fed me with artificial food, which lead to stomach complications. Every morning I would have to vomit because there was huge congestion in my stomach where the food wasn't digesting properly.
This period of treatment was a heavy burden for my parents as the treatment didn`t work well and it caused several complications such as infections and vomiting. These complications went on and on for several months. I'd also had a catheter fitted, which needed changing several times, and I needed an operation each time.
Until shortly before my fourth birthday, I had my own kidneys. However, my kidneys were causing more damage to my body, such as very high blood pressure, and I had to take up to seven different medications just to keep my blood pressure normal. Normal blood pressure is around 120-160mmhg but mine was over 230mmhg. However, the medications didn`t have a positive impact, so in the end both of my kidneys were removed and my blood pressure slowly came down.
An unfortunate side effect of taking such strong medications, was the loss of my hearing. My hearing went from 100% to under 30% in both ears. Not only was this bad, but nobody realised for a few weeks either. Once again, I had to start something new, and I began wearing hearing aids.
My health was stable for a couple of months, until March 1993. I had severe flu again, and at the same time my body was affected by a stroke and I fell into a coma. I was taken by helicopter to the Intensive Care Unit (ICU) in hospital, and on the way the doctors could only see a grey patch in my brain wave activity. This meant my brain literally wasn't working and they said that if I did wake up from the coma, I would have severe brain damage and be left disabled for the rest of my life!
While I was in the coma, the doctors tried to not just keep me artificially alive with machines, but also with therapies and special care. But none of it had a positive effect and it looked like there was no way to improve anything. At the same time, I got an infection in my stomach from my peritoneal catheter, which had to be removed and replaced with a different kind.
By this time, I'd been in the coma for ten days. Then, one evening the doctors called my parents to come to the hospital to say good-bye to me. There was no more hope for me, and the end of my life had nearly arrived! Heavy hearted, my parents made their way to the hospital, and after they'd arrived, the doctors turned off the machines that had been keeping me alive. At the same time they turned off the machines, I opened my eyes and started to speak!
"Mum, I want to take my shoes and walk into the living room."
(I said this because I'd been in my parents' bed as I fell into the coma ten days before.) Slowly, my Mum told me that this was not possible, so I told her I wanted to go into the playroom and play, which I eventually did many times while being in hospital.
What had just happened was an absolute miracle and no one could understand or begin to explain how it happened! From one moment to the next, I went from having a "dead" brain, to having a living, functioning brain.  All glory goes to God, because He is the only one who can people raise from the dead! I then spent a few more months in hospital as I slowly recovered.
In the summer of 1993, when my health had greatly improved, the doctors wanted us to try Peritoneal Dialysis again, which I`ve had before the coma. However, due to the many stomach infections I'd had, and the many different catheters they'd fitted, unfortunately it wasn't possible. This meant I now had another kind of dialysis treatment that is called Haemodialysis. I had to go to the hospital three times a week for this blood-cleansing treatment, in order to stay alive.
This was a life-changing situation for me, and my parents. I had to go to hospital three times a week and someone had to drive me there. The journey from our home to the hospital took about an hour. Fortunately, my parents found a solution: a social-taxi organisation drove me there once a week, once a week a friend of my parents took me, and once a week my Mum herself.
The next few months were not the best. As well as this treatment, I had lots of other problems such as infections from the catheter as this catheter lead directly into the bloodstream; congestion inside the catheter; and sometimes the catheter leaked. These things automatically impacted the quality of my dialysis as they meant my blood was not cleansed as well. My health worsened and I felt very sick after a few weeks. The lower quality dialysis caused a huge build-up of fluid inside me, which resulted in a lung infection. This nearly brought me to the end of my life again, but fortunately the doctors realised early enough to avoid further complications so I survived.
To be continued…
Side note:
Haemodialysis is a treatment that takes the blood from the catheter. The catheter goes into the blood stream close to the heart. The blood then goes on one way out through the machine, flows through the filter (artificial kidney) and flows back to the patient. This process happens for 3-6 hours, depending on the body size of the patient. Peritoneal dialysis gives salt-sugar fluid through the catheter into the stomach and sets apart the toxic substances from the food. Both kinds of catheter leave a small wound in the flesh, which is why infections can happen.