Part 5
20-25 years old.
(2008-2013)
---
I call this part "the time of flourishing". When my twenties started, besides from going to dialysis three times a week, my life flourished like never before!
After finishing my theory exams as a painter, I desperately needed a holiday.
In August 2008, three of my friends and I looked for a great place to stay on the West coast of France. Although at that time it was very difficult to find a place for my treatments as almost everything was booked out, we found a place called La Baule, on the northwest coast. One of my friends had a big family campervan which we borrowed for two weeks. We packed, loaded the scooters in the back and drove towards our destination.
This holiday was much needed and was a beautiful time for me, on a sunny coast with great people. One incident stands out, although not for good reasons! One night while I was riding back to the campsite on my scooter, after dialysis, I had an accident! On most of the roundabouts along that road, you could drive straight across them, but on one particular one you had to turn slightly. I thought I could go straight however, and in the process, while trying to avoid the kerb, I fell off and slid a few metres down the road. My scooter and I ended up in a flowerbed designed to welcome tourists to the area! 🙂 The flowers were pretty squashed, and I'd injured my arms, legs and head. I managed to somehow get back up, and collecting what I'd dropped, including my hearing aids, I drove back to the campsite. I then went to hospital to get my head checked, but everything was fine, and the beautiful holiday continued! 🙂
After the holiday, I continued my apprenticeship as a painter, as I had one year of practicum left before I could do my exam and receive my full diploma. It was a very tough year, working and preparing towards the exam, which I took in July 2009. Prepared but not yet ready, I went to the exams, which lasted for five days. I missed two half days during the exams for dialysis. Working hard and giving my best, I finished the tasks. A month later I got my results, and I'd passed the whole exam much better than expected, and I was now a professional painter! After a four-year, hardworking and tough journey, qualifying as a professional was one of the best feelings I have ever had!
Grateful to now be finished, I felt like I needed a long break. With the little savings I had, I holidayed in different places and at various camps. During that time I thought a lot about what I wanted to do with my future. After 3 months off, I started working again, doing private work as a painter for friends and family, in order to cover my everyday costs.
In December 2009 I started working as Kids Ski Instructor in which I had to to pass a weekly workshop with exams. I passed this too and was now able to work "full time". There was nothing more beautiful than starting work late in the morning, being on the slopes everyday and seeing kids flourish in their skills!
From December to April, I worked as a Ski Instructor. When Spring came, I worked privately as a painter again.
In October 2010, after planning for a few months, two of my best friends and I, headed off to go travelling in Australia. This was an extraordinary dream come true for me! I'd been dreaming of going to Australia since 1999, and here I was, able to go, even while still needing regular dialysis treatment!
That first week, we visited a friend of ours who was studying at Hillsong International Leadership College. The night we went to a service at Hillsong Church something remarkable happened. God clearly told me, in a short but powerful moment, that I would be back one day to do this college and live in Australia. Small-minded as I was (and still am), I had all the excuses for why it couldn't happen, as I had too many health complications. For a few moments I rebelled, and thought that it would be impossible for me to live in another country!
We spent another six weeks travelling up the east coast of Australia. We had an amazing time and I didn`t really want to go home. It was Winter in Switzerland by the time I got back, so I went from the beaches back to the slopes, as I returned to work as a Ski Instructor.
Nothing much happened in 2011. I worked for a few different companies as a painter to earn money to go back to Australia one day. During that time, I saw that what God had said to me in Australia was actually becoming a reality. The whole plan that God had put on my heart made more sense each day.
In January 2012 during a ski ride, I had an accident and fell. I hurt my knee and it was very painful but I still managed to drive home. A few weeks, and several doctors appointments later, I was told that my meniscus and anterior cruciate ligament were broken, and I needed a surgery to fix them!
This was a huge setback as I was about to start in a young, dynamic company as a painter and I had to delay my start for 12 weeks until I could work again! Those twelve weeks were pretty boring, as well as a lot of hard work with training and physio to get my knee back to normality.
Once those 12 weeks had passed I worked for that company before I headed back to Australia in November 2012.
I'd saved my money and submitted my application to Hillsong International Leadership College (HILC) so I was almost ready to go. Yet I still had one more thing to do, learn the language!
On 13th November 2012, I landed on Australian soil again, but this time for an unknown length of time. I attended an English school for 8 weeks before starting HILC at the end of January 2013. My level of English was so basic that the teacher told me it would be impossible to reach the required level within 8 weeks. I tried to find another way to do the English test, and I was allowed to do an online test.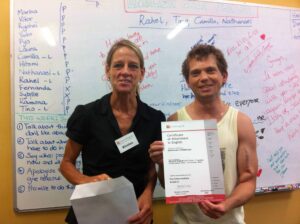 Unfortunately I failed but I got another chance to write an email in English and submit that. But even the email was not good enough and I failed again. My hope of enrolling at college was completely gone!
However, back in 2010 when visiting my friend who was then at college, I got to know the Vice President.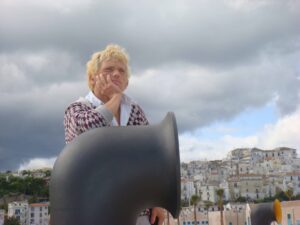 This was a great help these two years later, as I was able to contact him after I failed all the English tests.
One day he called me and I was freaking out as I really couldn`t understand much English then. However, I understood more than expected and he made sure that I was enrolled the next day – another miracle and another a dream come true!!!
When I desperately want something, or want to accomplish somethingalmost every time I get what I dream for! This is something I've learnt in life so far, that I'm very gifted at that – where there is a will there is a way! 🙂
In January 2013 I became a student at Hillsong International Leadership College! My first year was so tough, especially with the language. Being deaf and wearing hearing aids made it very difficult to learn the language and I completely underestimated the learning process. Fighting day by day, trying to submit the assignments as well as possible and building relationships in another language was pretty much my life during my first year of college.
To be continued…