Part 2:
5-10 years old.
(1993-1998)
---
After those last few infections, things went better for me and I was at home more often, which was great. Things then began to get interesting. In June 1994 my parents and I were called about a kidney transplant.
Two small kidneys had been found! We were happy and excited but the same time nervous and sceptical about it. Having a transplant would mean that I could stop dialysis and start living a life without constant treatments again. But, transplants were something that we didn`t know much about or what to expect.
Unfortunately, the first transplant didn`t work out well. In fact it was so bad that the new kidneys had to be removed after just twenty-four hours! I was only five years old at this point, and I was scared, I just wanted to get better!
As the transplant hadn't worked, I had to keep having the Haemodialysis treatments three times a week. Not long after the attempted transplant, I had several blood congestions in my catheter again. To help fix this, I had to start anticoagulation treatment, as well as having dialysis. This treatment stopped my blood from clotting, which in turn stopped the catheter from getting congested, meaning the dialysis was working at it's best.
Whilst all this was going on, I started going to kindergarten. It was an amazing new thing for me and I loved it. But because I looked different, with a tube in my nose for my artificial food, the other kids sometimes looked at me weirdly. That didn`t stop me from going and enjoying it though!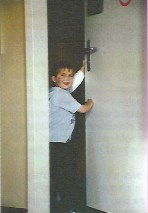 In March 1995, my family received a call about a second kidney transplant. We decided to have the transplant, and got everything ready. The operation lasted around five hours, and this time round the new kidneys worked well. I was able to urinate again for the first time since I was one! After a month in hospital recovering from this big operation, I was allowed to go home.
Having a kidney was one of my biggest dreams back then. I could finally eat normally, try out new things as I had more free time and also spend more time in social environments. For a while after the transplant, I had to go three times a week to the hospital for blood and urine tests. But the longer I had my kidney, the less often I had to go.
Having a new kidney in my body also meant new medication. This affected me physically in new ways, such as swelling my head and eczema. I didn't care though as I didn`t have to go to dialysis anymore – no more hospital visits three times a week!
In July 1995, I started my first year of school. This was a big miracle as some years before they'd said school wouldn't ever be possible for me because of my health conditions!
Things worked well during that amazing time, apart from me having a few coughs and colds. However, in August 1997, we got a bad report after one of the routine blood and urine tests. I was really scared that I'd lose the kidney and be without one once again. Unfortunately the reports didn`t improve even though the doctors did what they could to keep the kidney alive with plasma treatment. In the end, it didn't work, and I had to go back to dialysis. Going back to dialysis meant that I needed an operation to have a dialysis catheter fitted again.
By this point, the doctors wanted to remove the kidney seeing as it wasn't working. However, I saw the kidney as my best friend and I didn't want to lose it. After a few more weeks, the kidney was doing more damage than good, and I started to urinate blood! After chatting with my doctors and my parents, I realised it would be better to have it removed.
This was a huge disappointment for me and I fell in to a deep depression! I remember lying at home for two weeks. I didn`t speak or eat and I didn't want to go out. I was so depressed that I thought about taking my life! I was 8 years old. I couldn't understand why this was happening to me, and it didn`t make any sense to me to live a life like this! I also was angry with God. Growing up in a Christian family and being in church almost every Sunday, hearing that God is good didn`t make any sense to me at that point!
After two weeks of losing a lot of weight, and of being emotionally, physically and spiritually down, my parents asked some of the elders of the church to come and see me. The elders prayed for me, specifically for spiritual and emotional strength. After that, I slowly got stronger and started to accept that I`d have to go to dialysis again.
After they removed the kidney I stayed in hospital for a couple of days. As my mum was driving me home from the hospital we had a car crash. The car rolled and ended up upside down! Somehow, my mum could rescue herself out of the wreck first, followed by that she was able to rescue me quickly. Because I'd just had major surgery, I was taken back to hospital by helicopter as a precaution. Incredibly, there were no injuries for my mum, and me and while I had to stay a day in the hospital, my mum could go home after they brought me back to the hospital. After discharging me from the hospital, we made it the whole way home!
After all this, the dialysis went pretty well, apart from a few small health issues. Still, in November 1998, the doctors wanted me to go on the transplant list again. This was a tough decision to make, as the two previous kidneys hadn't worked for long. Also, aHUS is a chronic illness that only activates when you have kidneys; therefore having a kidney again would put me at further risk. Still, in hope of better things, I decided to go ahead and be put on the transplant list…
To be continued…
A bit of info about kidney transplants:
In order to receive a kidney, patients are put on a waiting list. Each patient needs a kidney from a donor with their same blood group, size and many others. Sometimes, a donor kidney is a match for two people. When this happens, the kidney is given to the patient who has been waiting the longest for a match. A healthy person has two kidneys, but it most transplants, you receive only one kidney. One kidney is enough to cleanse all the waste substances out of the body.
Visit Donate (Australia) or Donate (Switzerland) for more information about kidney transplants and donating opportunities.